20 ways how to get rid of acne overnight: fast and naturally
It is important to understand that in any of the options to get rid of acne - it is a long and difficult process, which includes:
Removal of the original disease cause
The destruction of the bacteria causing the acne inflammation
Treatment of inflammatory effects on the skin
Normalization of hormonal balance
Maintaining a normal skin condition in order to prevent recurrences.
Selection of an overall treatment strategy, a combination of methods and duration of their use is the prerogative of the doctor-dermatologist, and the overall success of the event depends on how seriously the patient pays attention to complying with all the recommendations and regulations.
Preparations for the acne treatment
Antibiotics
It`s one of the most common and effective methods. Antibiotics of topical and internal use kill bacteria in the sebaceous glands, purify the skin from inflammatory cells. Local wound-healing and anti-inflammatory drugs are used in combination with antibiotics.
It is important to remember that the long-term acne treatment with the same antibiotics help or their incorrect selection may lead to the opposite effect - the formation of bacterial resistance to the action of drugs, due to which therapy will be much less effective.
Retinoids
This group of external application or oral administration drugs, which is a derivative drugs of retinol (vitamin A or retinoic acid). Retinoids actively affect the receptors of the cell nuclei, the growth of skin cells, the activity of the sebaceous glands, have anti-inflammatory and immunomodulatory effects. Put simply - they stimulate skin cells to produce less sebum, to exfoliate quickly dead horny layer, eliminating the pores clogging.
Degreasers
In the complex acne treatment, until recently, agents with alcohol have been appointed to reduce the sebaceous glands intensity. However, this method has a major drawback: the excessive use of alcohol destroys the natural protective barrier of the skin and disrupts the epidermis detachment (peeling). As a result, there is the proliferation of bacteria in the sebaceous glands.
Cosmetics with active substances against acne
It`s recommended to use products containing supplements for acne, such as azelaic acid, benzoyl peroxide, glycolic acid, clay, herbal ingredients, salicylic acid, sulfur and resorcinol, zinc and essential oils to combat the acne problem both at home and in the framework of an integrated dermatology and cosmetic treatment.
Hormone therapy
The oral contraceptives with combined estrogen and progesterone are used in the acne treatment for women, but it can only appointed by an endocrinologist, as this option is not for everyone, and has a number of significant contraindications.
The simplest home remedy for acne is proper skin care.
Both women and men should care for the skin. The skin on your face is different from the skin on the body, and therefore requires a different, careful and meticulous care. The person is constantly in contact with the environment, which is full of allergens, dust, dirt, bacteria and viruses.
The basic rules for the inflamed skin care
You must not squeeze pimples! Very popular recommendation, known for everybody, but not everybody adheres to it. Squeezing a pimple just one a person with his own hands prolongs his permission, making an additional infection in the skin, promotes the diversity of acne on the face. Ugly scars left after squeezing pimples after long-term skin recovery. But what about squeezing pimples in the beauty parlor, many will think. Specialists use completely different techniques and tools, you shouldn`t repeat their performance at home.
You should wash twice a day with special light foams or gels for problem skin. Use a sponge for washing is not recommended, because it irritates inflamed skin more. The optimal water temperature is 18-20 C. You should wash up with your hands, without effort, and after washing, gently blot your skin with a soft towel or let your face to dry naturally.
It is necessary to use the cosmetics and skin care products that don`t clog pores (usually contain the words "non- comedogenic").
During the day, if the skin is very oily, you can use neutral cleaning napkins, or those which are impregnated with useful additives such as tea tree oil, chamomile and so on.
You must not be a long time under the influence of the scorching sun on the unprotected skin with special tools.
Avoid invasive way to clean the skin in the acute phase, when there are many pimples and comedones on the face. For oily skin it is recommended to use soft scrubs and cleansing gels, for example, based on oats.
TOP 5 DIY Natural Homemade Masks to Fight Acne
Thanks to our ancestry, numerous homemade facial masks at our disposal nowadays. The most effective DIY masks to cure acne are the following:
The Wonders of Apple Cider Vinegar
ACV turns out to be a very competent remedy for acne. Killing all the nasty bacteria it releases your pores and fills up the pH of your facial skin. Besides, you may wave a farewell to surplus oil which causes clogging of the pores and excess inflammation and itching. You should bear in mind two things:
Apple cider vinegar smells awfully. So, it's preferable to make the mask before going to bed;
Always dilute the ACV with enough amount of water in order not to annoy your skin.
Ingredients:
Unfiltered unpasteurized natural apple cider vinegar
Water
Directions:
Mix in a plastic bottle 1 part of ACV and 3 parts of water. Stir up the bottle thoroughly for the mother is to dissolve. Take a small brush and dip it into the elixir. Apply the substance to you face gently dabbing it to your face. Use the remedy once per day first. After a week you may increase the frequency of procedures.
Discover Oatmeal Mask
Oatmeal is a perfect cure for acne due to its smoothing properties. The mask produces a calming effect thus reducing the unpleasant painful sensation. If you add a bit of raw honey, the mask will additionally provide the antibacterial effect which is also of significant importance while treating acne.
Ingredients:
Steel-cut oatmeal
2 tablespoons of honey
Water
Directions:
Pour steel-cut oatmeal into a vessel, add milk and leave the oats for a night. In the morning add honey to the substance and stir up thoroughly. Let the mask rest for 20-25 minutes and cover every inch of your face with the mask avoiding the eyes. Leave the mask for 20-30 minutes. Next, wash your face with warm water and enjoy the result.
Quick Egg Whites Mask
Long ago women noticed that egg whites are helpful for acne because they contain protein and vitamins which are so vital for recovery of skill cells. After applying the mask your skin turns out to be free from abundant oil that clogs the pores.
Ingredients:
1-2 egg whites
A bowl
Cotton balls
Directions:
Leave the yolks aside and take the whites. Whisk in a bowl for 1 minute. Let the whites rest for 2 minutes while you clean your face. Using your fingers or a cotton ball apply the mask to your inflamed skin. Let the mask do its job for the next 20 minutes. At last, wash your face and pat your skin dry.
DIY Tea Tree Oil Mask
Tea tree oil is a universal remedy which treats almost everything.  Skin problems are not an exception either. It happens so that tea tree oil manages to seep into deepest spots of your epidermis and unclog pores heading toward fast recovery from acne. Moreover, this very oil is capable to kill the bacteria causing acne which makes it invaluable treasure for spotty skin.
Ingredients:
Tea tree oil
Water
A vessel
Cotton balls
Directions:
Take a bottle of tea tree oil. Dilute in a vessel 1 part of oil and 9 parts of water. Dip cotton balls in the mixture and apply to problematic areas of your skin. You should always dilute tee tree oil because it may provoke worsening of your inflammation. If your skin is extra sensitive you can replace water with aloe vera gel which is also very efficient for acne and redness.
Aloe Vera and Honey Mask
Both honey and aloe vera have always been considered perfect remedies to fight acne and scarring. Their soothing and anti-bacterial properties help to prevent further irritation of the skin. Combined together the components represent a wonderful and very effective DIY remedy which is easy to apply.
Ingredients:
1 tablespoon of aloe vera gel
4 tablespoons of honey
A bowl
Cotton balls
Directions:
Get together the two components of the mask (AVG and honey) and stir slowly. As the mask is ready, apply to your skin gently using cotton balls. Be sure to avoid the eyes. Leave the mask for 20 minutes and rinse.
Conclusion
These are the TOP DIY facial masks that can easily rehabilitate your skin. Don't hesitate and try to use DIY all of them one by one. Never forget to moisturize after the mask. Remember: Your beauty is in your hands!
Home Remedies for Cystic Acne - Cystic acne causes
The following factors can trigger off cystic acne outbreaks:
mechanical skin injuries;
exposure to extreme heat or cold;
non-observance of hygiene;
bad habits (smoking, alcohol);
inadequate diet;
hormonal imbalance;
allergy (e.g. to food);
heredity.
These factors act as intermediaries, while it's pathogenic microflora that causes cystic acne. Bacteria usually situated on the skin surface become able to reach deep into your skin, thus leading to sebaceous glands inflammation, which we call cystic acne.
Don'ts in dealing with cystic acne
Don't try to pick at your bump, especially when it hasn't ripened yet. This way pus, bacteria and dead skin cells can get to your blood, and the infection will progress; moreover, after the bump's finally over with, be ready to face a terrible scar.
Forget about exfoliation for the period of active cystic acne. You don't want to end up with blood poisoning, do you? And make sure that your towels are soft, or use paper ones, which is way better.
Don't prescribe yourself antibiotics and hormonal treatment – it's encroaching on your doctor's exclusive right.
Home remedies
Unless you've eliminated the cause of cystic acne, there's no way you can get rid of it by applying spot treatments. The latter will help you to deal with one particular pimple (even overnight if you're lucky enough) but will be of no use in the long run.
Folk medicine, too, has something to offer against cystic pimples.
Aloe vera can help you to extract the pus from an already ripe pimple. Apply it directly to the spot as a compress and leave overnight. Aloe won't work on a red bump, though; you'll have to wait until it gets ripe.
Regular vapor baths with medicinal herbs will make your pimples ripen and heal faster. Use chamomile, calendula, lavender, sage, celandine, rosemary, etc. in any combination that appeals to you. Try also washing your face with this herbal tea.
Iodine solution is another remedy, but you should be careful with it not to receive a burn. You'll have to apply the solution with a cotton bud; do it once or twice a day but remember that it leaves you with a yellow spot on your face for next 30 minutes.
Baking soda per se offers a great anti cystic acne effect, but in combination with Epsom salt it can work miracles. Mix these two and add some water to form a past, and then use it as a face mask. Be sure to moisturize afterwards, as it leaves dry not only your pimples but also your skin.
Life is not all honey, but your face is, with this honey recipe. Raw honey, due to its antiseptic properties, reduces the redness and inflammation and at the same time, unlike many other home treatments, leaves your skin moisturized. Apply it directly on your cysts or make a nourishing mask, adding cinnamon and nutmeg.
Tea tree oil remedies may seem a trite idea, which doesn't lessen their efficiency. The oil rids you of cystic acne naturally, disinfecting the pores and drying out the blemishes. Take pure tea tree oil but dilute it with water in the ratio of at least 1:1 (add more water if your skin is sensitive). The treatment is only for pointwise application.
Clay provides a wide range of positive effects on your skin, and ridding you of cystic acne is one of them. You can choose any clay you like: fuller's earth, bentonite, green… It's as easy as winking to produce a mask: simply add some water to your clay; a creamy consistency is what you need in the end.
Ice won't heal you of cystic acne but is able to bring relief by reducing pain. Rub an ice cube on your face for several minutes and that's that! This home remedy is good only for single cysts because you'll need a lot of patience to rub large areas.
Remember that home remedies for cystic acne are supposed to alleviate your sufferings while your dermatologist is looking for the cause and is considering the strategy of your treatment. Relying completely on homemade masks and compresses may result in more severe outbreaks and post acne scars.
How to rid of acne on your chest and back?
Acne appear when sebaceous glands work too strong. Sebum leads to clog of pores. When the bacteria are attached it leads to the inflammation of the skin. Consequently you can see pimples on your skin.
What reasons can lead to acne?
Hormonal diseases. Frequently acne on chest and back are the result of these diseases. So acne can be just a symptom of such diseases as polycystic ovary syndrome, diabetes, adrenal hyperplasia and hyperthyroidism. So you should to talk about this with your doctor.
Diseases of digestive system. Also disturbance of intestinal microflora can be a cause of acne.
Uncomfortable clothes. Your skin can't breathe under synthetic clothes. Also tight clothes can rub your skin.
If you go in for sports you are sweating. So you should take shower after your exercises.
Allergy on body lotions shampoos, shower gel.
Your ration can leads to acne. For example, spicy dishes, fast-food lead to disturbance of sebaceous glands work.
Stress is frequent cause of acne.
How to decide this problem?
Now you know the reasons of acne. What the causes are in your life? Treatment of acne on chest doesn't differ from treatment of acne on face. Think about the hygiene of your skin and diet. Here are some recommendations:
Take shower every day. If you sweat too much you should take shower often. Don't forget to shower after exercises. By the way hot water stimulates the work of sebaceous glands, so choose warm or cool water.
Try to use shower gel with such ingredient as salicylic acid. This substance fights against bacteria. Your body cosmetics shouldn't contain fragrance, dyes. Pay attention to non-comedogenic cosmetics. By the way your shampoo and conditioner also can be the reasons of acne.
Choose cotton clothes, it shouldn't be too tight.
Wash your clothes, bed linen and towels regularly.
Don't pick your pimples! This leads to infection dissemination. Also you shouldn't touch a chest.
Use such acne treatment products as salicylic acid, benzoyl peroxide or tea tree oil.
You should avoid eating spicy dishes, fast food. Seafood can leads to allergic reaction. Doctors recommend eating a portion of fresh vegetables or fruits every day.
Also you can take a bath with sea salt. This leads to good results.
You should get enough sleep and avoid of stress.
Girls, pick up your hair before sleeping. Hair can irritate your skin. Also the dirt from hair can falls on your skin.
Drink more water. You can drink green tea as an alternative.
The best methods of treatment acne
Ways to remove acne spots and to remove acne scars are often necessary to combine in a complex therapy, as "pure" defects are very rare. Official medicine and cosmetology techniques offer the following methods "how to remove traces of acne":
Chemical peels effectively eliminate the traces of acne in the form of different etiology spots. Keratolytic enzymes, acid (trichloroacetic, retinoic acid, azelaic acid) cause an active detachment of the epidermis top layer, thus provoking the process of natural regeneration of the skin. In addition to removing stains, wrinkles are smoothed out, shallow atrophic scars disappear.
Method of cryoablation is most effective for treatment of keloid type acne scars. "Firing by the cold" is safe, strictly dosed, doesn`t cause side effects.
Mesotherapy, solving the problem how to remove acne scars, promotes deep nutrition, restores normal functionality of several epidermis layers.
The best methods to remove postacne stains
For example, a folk remedy - Spongilla. However, it is prohibited to use for those who have sensitive skin, or who haven`t gotten rid of acne yet. There are two kinds of Spongilla: gel and powder. If the scars and stains are not strongly marked, it is best to take the gel. For a stronger effect you can use powder. But it should be noted that the powder is more danger and can even burn the top layer of your skin.
The lemon juice will help to lighten spots (but not to get rid of scars!). On the basis of it you can prepare a mask, for example, a lemon plus honey.
The third way is acid facials. These include those masks, which are composed of fruit acids - with the help of them you will most effectively remove your postacne purple spots. On the basis of acid face tonics and cream are produced. But we should remember that acids increase the skin photosensitivity, so if you take a course of acid treatment, you should use sun protection at least spf 20.
Medical cosmetics and medicines against acne marks
Medicines that can remove stains from acne on the face, include products containing azelaic acid. Its action is aimed at suppression of melanin production. The composition of these drugs often has glycolic, lactic, citric acid and salicylic acid. Such agents can be bought at the drugstore as pharmaceutical preparations and in cosmetics composition. Before you choose something, carefully read the instructions, don`t blindly trust the pharmacist`s advice.
Professional cosmetologists actively use medical paraffin, it can be bought at the drugstor. Pre-dissolving the medical paraffin, put on the spot, and after it will harden, carefully remove it from the skin, then it is desirable to moisten your face with a cream with vitamin E. Contraindications are sensitive skin, especially thin, through which you can see small blood vessels.
Folk remedies for the acne effects treatment
Masks made of clay
The miraculous properties of colored clay are used in cosmetology, including it's good to fight against traces of pimples. You can use clay of any color, but it is the best to use white, black or green. Clay is diluted with water. Add 2-3 drops of rosemary oil or 2-4 drops of lemon juice and apply on the spot or on the whole face. You must keep all this "beauty" for 15-20 minutes, then rinse with water, apply every other day to achieve the effect.
Whitening
If traces of acne are chronic, they are not usually red and look like dark spots - skin on them is darker than the rest. In this case, you can try to whiten them with the lemon juice or cucumber lotion. Lemon juice should be diluted with water 1: 3 to avoid irritation. However, if spots are red, it means that the inflammation has not yet fully elapsed. Then, this method is not suitable.
Masks with essential oils
Add to one t. sp. of olive oil a drop of lavender oil and two drops of peppermint and rosemary oil. This mixture should be rubbed into the stains 2-3 times a day. Don`t exceed the amount of essential oils in the composition, it may cause irritation.
Mask with Spongilla
This is a more modern, but also folk recipe.
Essential oils against acne scars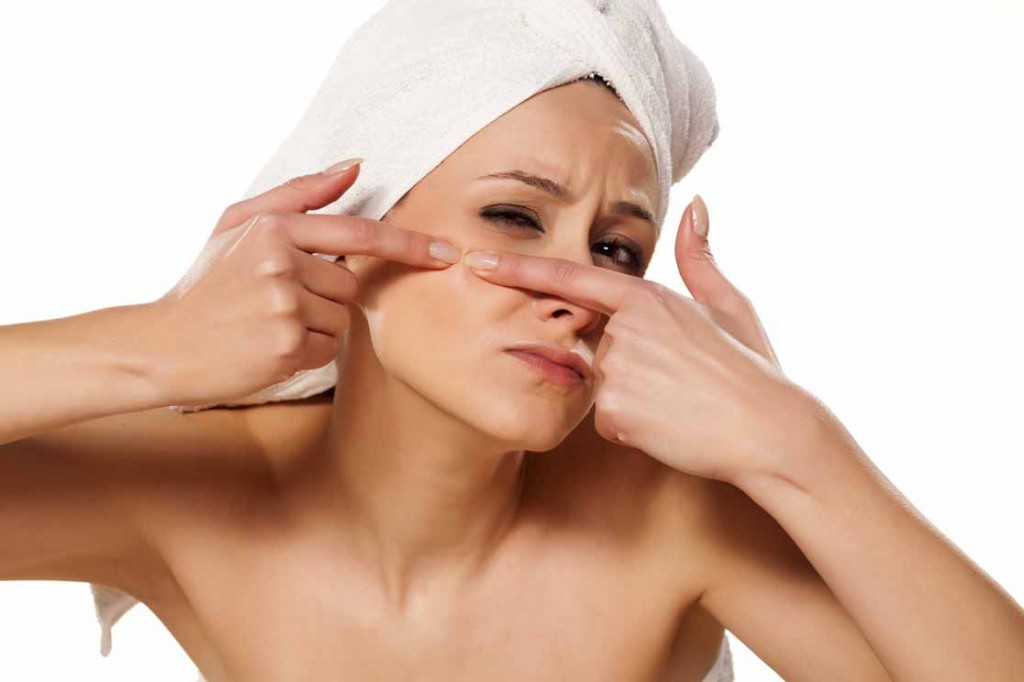 If you have sensitive or dry skin and acne at the same time, your face may not react positively to you using harsh cleansers and toners with salicylic acid in it. In this case the only solution for you is to choose something with softer and gentler formula. Essential oils perform that task very nicely. Their biggest advantage is the fact that most of them don't dry your skin out.
Everybody who wants to buy a bottle of essential oil for himself will have to make a choice between two options, both of which have their own benefits.
These are:
pure oil from the pharmacy .
the one manufactured by any of those famous multifunctional beauty brands.
Ones that can be bought in pharmacies are usually more natural, not mixed with other ingredients and may be more affordable, while those from the drugstore may include additional vitamins and beneficial elements along with different chemicals, unfortunately not that beneficial. The latter are usually more expensive because of the brand, but do have a huge variety of products for people with different preferences and can show more impressive results.
Which choice to make? It is completely up to you.
TOP-5 essential oils that fight acne
Tea tree oil is a very popular option. Tons of beauty gurus that share their opinions on YouTube and websites recommend it as a holy-grail product that saves lives. It is true that tea tree oil includes components that have anti-inflammatory and antibacterial effect, but it is one of those that can make your skin dry.
Lavender has soothing effect and works more softly.
Bergamot works great in combination with other oils. It has antibacterial effect and improves the skin considerably.
Rosemary looks a little bit unusual as a beauty product, but it really does its work. It is popular because of the way it reduces puffiness and redness and makes your skin extra glowy.
Oregano is a great thing that helps to get rid of all imperfections and clear out your skin.
Neutrogena Oil-Free Acne Wash review
Those 5 best natural essential oils, mentioned above,can be easily found online or in the local pharmacies. So, all of them present an essential-oils-against-acne category. But what about those products that don't have essential oils in its composition?
Of course, there are a lot great things on market and everybody can find something suitable for their skin type. But some anti-acne cleansers that include salicylic acid in it have a tendency to worsen your skin condition. Many readers were eager to know further information about Neutrogena Oil-Free Acne Wash, so here it is!
Neutrogena Oil-Free Acne Wash is that uncertain product that gets completely different – from super positive to extremely negative – comments. It is a representative of oil-free drugstore products that tend to become more popular nowadays.
The main working ingredient of this product is 2% Salicylic Acid, which really do help fight acne, as we all know. People, who have a positive opinion about this product, claim that it clears the skin from all imperfections, gets rid of all dirt and makeup and doesn't content any parabens. However, most of negative reviews say the same thing: it is super drying. To the point where even oily skin feels extra tight, flakey and itchy and nothing, even moisturizer, can help it. The decision should be done by you personally, but we do think that those of us with dry skin should definitely avoid this product.